'Grandchildren of Hiroshima'

The Hiroshima Project started in 2014 with a series of interviews conducted by children with survivors of the atomic bomb. These interviews were developed in to a play 'Grandchildren of Hiroshima' and performed in Hiroshima in August 2015, the 70th Anniversary of the dropping of the Atomic Bomb, by an intergenerational group of Hiroshima residents.

Hiroshima Dispersed

The play was then shared with other community theatre companies around the world through the 'Hiroshima Dispersed initiative'. Then in August 2015, a reading of 'Grandchildren of Hiroshima' was done by 10 community theatres from 8 different countries.

'After Hiroshima'

'After Hiroshima' is the second oral history and performance project developed in London. It tracked the story of the response of the rest of the world to the development and deployment of the atomic bomb and the protest movement that arose during the 1950s. It was performed in London in 2016.

To pass on the voice of Hibakushas


An Oral History Performance
The Hiroshima Project was sponsored by London Bubble Theatre Company, a community theatre company in London. For 40 years, London Bubble has created theatre with, by and for, its local community in southeast London. In 2011, London Bubble led the 'Grandchildren of the Blitz'. This project aimed to uncover the experiences and stories of the survivors of the London Blitz of 1941 and share these stories through and intergenerational, community performance. The impact of the 'Grandchildren of the Blitz' project on its local audiences and participants was profound. The survivors' real stories, passed down from elders and the children of the community, gained new life and meaning.
Marigold Hughes, an Associate Artist for London Bubble, visited Hiroshima as a 17-year-old and the scale of the death that she encountered was beyond anything she could comprehend. After graduating, she came back to live and work in Japan for two years.  She spent the first of these years in Kure - a town in Hiroshima prefecture. Whilst she was there, she visited the Peace Memorial Museum on numerous occasions and learnt more about the Atomic bombing of the city. Seven years later, she worked as the Project Co-ordinator for the 'Grandchildren of the Blitz' and in collaboration with the Creative Director of London Bubble, Jonathan Petherbridge. It was an excellent model and produced a beautiful, powerful and important production for the local community. She wanted to do a similar project in Hiroshima and began the develope a parallel project that would form part of the 70th anniversary commemorations in Hiroshima: 'The Grandchildren of Hiroshima'.
The project has brought elders, adults and children together to commemorate and episode of their history that should never be forgotten or repeated.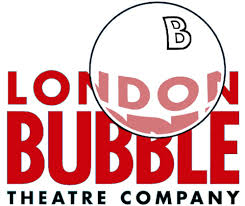 London Bubble Website
The Grandchildren of Hiroshima Project

Co-Director
Jonathan Petherbridge
Jonathan has worked as Creative Director of the London Bubble for more than twenty years. He has extensive experience of community consultation, project design, devising and directing productions, fundraising, personnel and budget management. Since 1989 he has developed a number of intergenerational projects and has pioneered the use of verbatim and site specific theatre techniques that involve the wider community.
 Jonathan has, over that last five years, been developing a process and methodology of participatory, intergenerational heritage-based theatre-making. Before joining the Bubble, he was Artistic Director of the Dukes Lancaster and Theatre Royal York.

Co-Director
Yorie Akiba
Yorie is a director and puppeteer working and living in Tokyo. Yorie was previously an Actor/ Assistant Director with the Rinkogun Theatre Company, with whom she collaborated from 2007-2010. She has received training at the National Institute of Dramatic Art (NIDA) in Sydney, Koike Hiroshi Performing Art Institute and Stella Adler Studio of Acting in New York. In  2011, Yorie founded Glasio Bluo in  Brooklyn, New York. Yorie had received a grant from the Japanese government to study modern puppetry in theatre making. Whilst in New York, the company collaborated on various productions including Compulsion by Mandy Patinkin, The Wind-up Bird Chronicle by Stephen Earnhart, Yara Arts and Hachioji Kuruma Ningyo Collaboration Workshop.
In 2011, the company was re- launched in Tokyo, with an adapted performance of Oscar Wilde's The Selfish Giant. Later that year, Tohoku earthquake hit the North-East of Japan and Glasio Bluo formed the "Tsunami Project", to provide aid to the victims, run creative workshops and give performances. This project attracted new artists - musicians, dancers, visual artists and actors – to the company and its work.

Co-Producer
Yukie Ogasawara
Yukie is the founder and manager of Kodomo Net (http://www.kodomo-net.jp/) a successful NPO Arts and Education Network, based in Hiroshima. Yukie worked as a Project Co-ordinator on The Grandchildren of Hiroshima during August 2014, helping us set up the workshops and recruit local children as participants. She has worked on numerous community arts projects in Hiroshima and has a solid knowledge of the community and its citizens.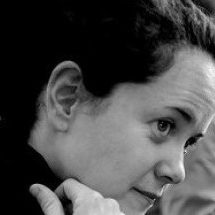 Co-Producer
Marigold Hughes
Marigold studied Drama and Education at the Royal Central School of Speech and Drama and has worked as a director, project manager, journalist and facilitator. She is currently Associate Producer at London Bubble – for The Grandchildren of Hiroshima Project – and the Schools Producer at Theatre Centre; an Arts Council funded national touring theatre company, commissioning and developing new writing for young audiences across the UK. From 2010-2011, she managed the Grandchildren of the Blitz project at London Bubble Theatre Company, an oral history project culminating in a performance – Blackbirds performed to critical acclaim in 2011. 
Marigold was the Co-Artistic Director for Knavish Speech from 2005-2008, where productions included Dreams Come Out To Play developed in co-production with The Birmingham Repertory Theatre (2006), and Igloo: a piece specifically created for early years children with profound and multiple learning difficulties. As an arts journalist, she has been a contributor to the Daily Yomiuri (National Broadsheet, Japan), Total Theatre Magazine and The Stage. 
Marigold's Blog
The Grandchildren of Hiroshima Blog

Playwright
Misaki Setoyama 
Born in Tokyo in 1977, Setoyama graduated from the Waseda University's School of Political Science and Economics. In 2001, she started the Theatre company Minamoza for which she would be the playwright and director. From 2003, she would begin activities as a freelance writer as well her theater work. Setoyama creates plays characterized by a concern for reality deriving from her thorough research and in-depth interviews related to her subjects. In January of 2011 Setoyama's play Emotional Labor about a group of phone fraud swindlers portrayed from a gender perspective was selected for the "Theater Tram Next Generation Vol. 3" contest organized by the Setagaya Public Theatre in Tokyo, known as a proving ground for young theater creators.
Works in recent years include a documentary play based on Setoyama's own life since the Great East Japan Earthquake and Tsunami titled Hot Particle, a short duo play exploring the standard value of the heart titled Yubi (Fingers) and a play titled Kokumin no Seikatsu dealing with the sins of capitalism at the daily life level. Among these,Yubi has since been performed often in various forms, by student theater clubs, in readings and in overseas performances. Outside the work with her theater company, Setoyama's activities have included writing the script for a stage adaptation of Kuniko Mukoda's Ashura no Gotoku (Like Asura), writing the script for and directing a stage adaptation of Kotaro Isaka's Fish Story, participating in the writing of a reading script titled Watashi no Mura kara Senso ga Hajimaru(War starts from my village) depicting the town of Takae in Okinawa and serving as a program director for the community workshop series "Chiiki no Monogatari" organized by the Setagaya Public Theatre. Setoyama is a project committee member of the Japan Playwrights Association.

Designer
Yasuko Hasegawa
Yasuko studied Theatre Design at the Royal Central School of Speech and Drama in London and has worked as theatre designer and community artist on various projects, both in the UK and Japan. Design credits include:  A Moment ago on Pluto in August, A Moment ago on Earth in August (2014, Atelier Dora, directed by Kenichi Shinomoto), Room (2013, Broader House, directed by Yo Osawa), Mint (2013, directed by Yu Osawa), The Stars above the Sand (2012. Space Zatsuyu, directed by Sachi Kimura),Mass Carib (June 2007/Old Royal Naval College as part of Greenwich and Docklands Festival), The Voysey Inheritance (June 2007 Embassy Studio, Central School of Speech and Drama), Saturday Sunday Monday (June 2007 Embassy Studio), Loyal Women (May 2007 Embassy Studio), Journeyman (June 2006 Albany Theatre, Manchester Contact in collaboration with Art of Street, South Africa/ Feb 2007 tour to BIS Jakarta, Indonesia), Locked In (Sept-Nov 2006 Half Moon and national tour), and Liar (Mar 2006 Albany Theatre Studio).

 Design Assistant: Sayuri Ueda (Unima Design)

Lighting Designer: Sachie Kidani, Mami Ota
Sound Designer: Satoshi Kimura
Original Music: Wilf Petherbridge
Stage Manager: Akihiro Tanaka
Fimling & Editing: Atsuhiro Danjo (5Dlab), Hideaki Kitayama
The project is being led by London Bubble Theatre Company and are also partnering with Kodomo Net in Hiroshima and Glasio Bluo.